This summer I have really been enjoying so many yummy flavors of infused water. It got me thinking, what's better than infused water? Duh, infused liquor! Similar, to water the flavor possibilities are endless. I've never done this before but I thought I would share with you how I did it. For my first go around I tried a strawberry-basil tequila and peach infused bourbon...I don't know if I can wait 2 weeks to see how it turns out!
Strawberry-Basil Tequila
I've been on a fruit kick this summer and can't get enough strawberries. I picked this basil up from the farmer's market yesterday and knew it was a match made in heaven.
From everything I've read about infusing liquor I don't think there's an exact science to it. I just eyeballed about half a pint of strawberries and a few sprigs of basil. After dumping into my mason jar and filling it up with tequila. It's important to use a mason jar or other container with an air-tight lid.
Depending upon how strong of a flavor you want you can leave the jars in the fridge for 1-2 weeks up to a month or so for dark liquors such as bourbon. An article I read suggested to shake the jar every day or so to help meld the flavors. I'm envisioning a strawberry-basil margarita with this jar along side a heaping pile of chips and salsa.
Peach Infused Bourbon
Bourbon tends to be a little strong for my taste buds but I'm excited to see how the sweetness of the peaches tames the flavor.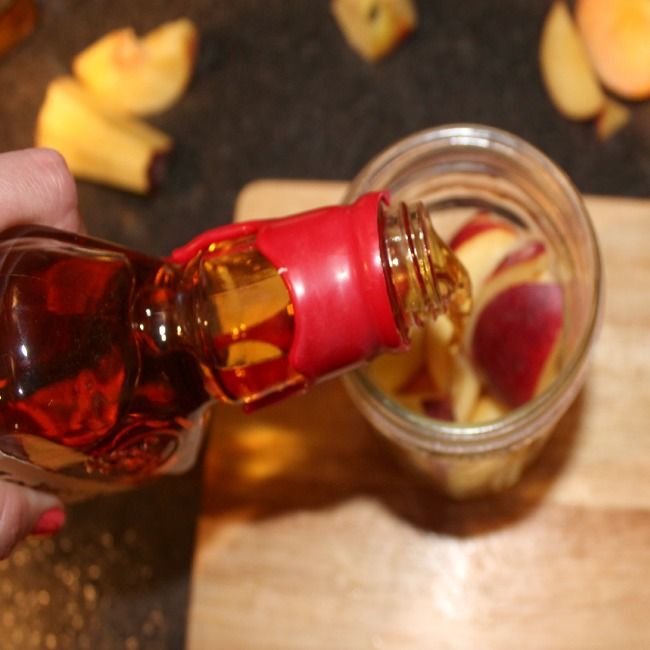 I'm excited to check back in with you all in a couple weeks and let you know how these turned out! Aside, from mixing up your own cocktails I think these would make great gifts!
What flavor combinations do you think sound good?