I'm excited to be linking up today for my first Creative Closet linkup challenge! This week's theme was "Pattern on the Bottom".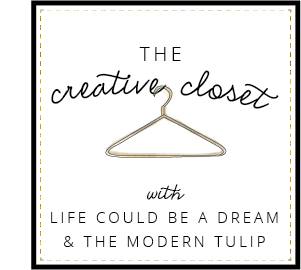 Also linking up with Trendspin.
For this prompt I decided to style an outfit that would be appropriate for work while also incorporating the fun patterned bottom. I got way too many laughs (from myself) using the mullet "business on the top, party pattern on the bottom" slogan to describe my look.
Most of the time I feel so bored with my work wardrobe. I mean how many days a week can one wear black slacks? I push the limit. It was fun to mix in classic work staples like this button up with a trendier skirt. This skirt is from Marshalls but you can get a similar feel with this lace skirt or leather midi.
Styling a work wardrobe for a professional office atmosphere can be tough because you want to portray a "business" like persona but also be able to show off your own style and have fun with your clothes. I mean lets face it...unfortunately we spend way more time in work clothes than we do weekend or "fun outfits". Don't let yourself get stuck in a black pants/white shirt rut. Your job may be boring but your outfit doesn't have to be :)
My rule of thumb is your work wardrobe should be 75% classic staples and 25% statement or fun pieces. As long as you balance the fun with more professional pieces you can look respectable while still showing off your style. This outfit straddles that line perfectly!
How do you incorporate your style into your work wardrobe?